1. Add to Cart
2. Upload & Preflight / Shopping Cart
3. Payment
4. Complete
Real Estate Signs
Starting at $189.00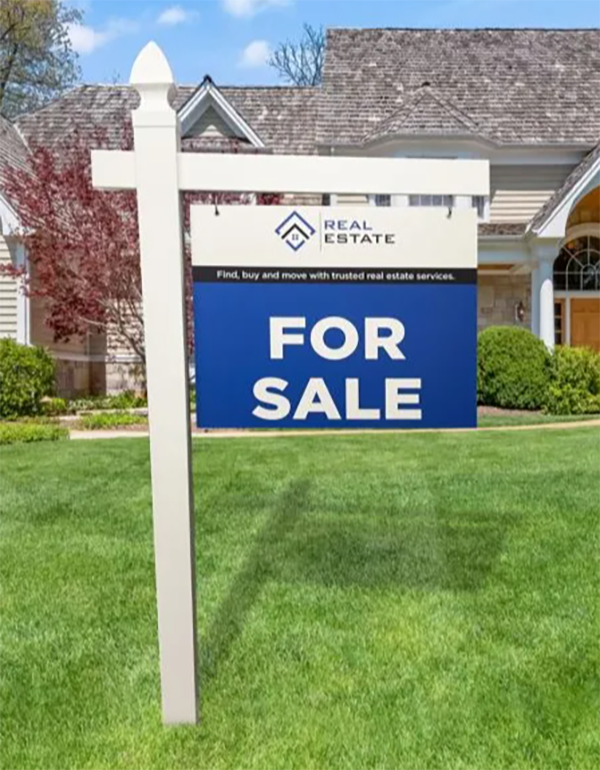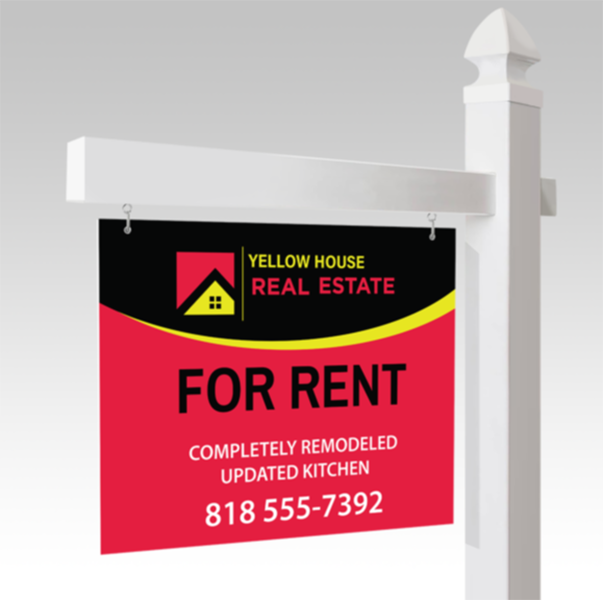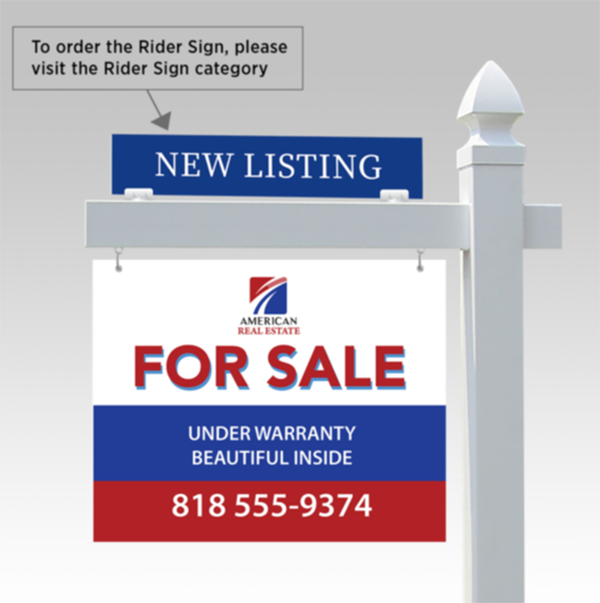 Your listing will stand out with our premium 3mm PVC real estate signs. Our real estate signage is designed to stand up to the elements, ensuring your signs last from the date the property is listed through the sales or rental process. The hardware is durable and lightweight enough for a single person to install. The arm, quick-install ground stake, caps, and hanging hardware all fit within the body of the vertical post for compact storage and transport. This product will make displaying a Real Estate sign easy and dig-free. The Single Arm Vinyl Post is a great exterior sign frame for real estate and directional signs. We also offer signs without posts so you can easily interchange the signage from one listing to the next.
Our real estate signage is ideal for sales, rentals, or open houses. Make a lasting impression on potential buyers or tenants with these top-tier real estate signs. Our real estate signage is available in two sizes, 24" x 30" and 18" x 24, so you can choose the right size to fit your needs depending on where it will be positioned to ensure that your listing gets the attention it needs. If your property is far from the road, the 24" x 30" sign may be needed, or for properties that are easier to view from the road, choose our 18" x 24 size.
Our real estate signs are not just for realtors! Use our real estate signage for construction sites, landscaping or gardening services, contractors performing home renovations, pool installations, retail signage, school and university signage, corporate signage and so much more!
We also offer signs with posts and rider signs, as well as a full line of offset, digital, and large-format printed products. Don't see what you're looking for? Contact us today for a custom quote.
Ordering & Artwork Setup Guide
Step 1. Choose Product
If you can not find the product you are looking for submit a custom quote here
Step 2. Select Product Options
Size
Color
Turnaround Time
Coating
Etc.
Step 3. Add Product to Shopping Cart
You will see an instant price for all listed products
Click the Add To Cart Button
Step 4. Review Shopping Cart
Name Your Job
Select Shipping Method
Add Any Special Instructions
Once Satisfied Click The Checkout Button or Continue Shopping
Step 5. Payment Page
Select Billing Address
Select Payment Method
Review and Accept Terms/Conditions
Click Complete Button
Step 6. Upload Files

Upload Now
Upload Later
My Designer Will Upload
Files Are At A 3rd Party Download Source (i.e. ftp, dropbox, sendspace)
* Click a price and the quantity in the calculator will update to match what you selected.